TEAM WANG ME vs ME CONCEPT SPACE
"ME VS ME"
WHAT YOU BECOME IS NEVER ABOUT
ANYTHING BUT YOURSELF
YOU CHOOSE
YOU PLAN
YOU DO
KNOW YOUSELF
MAKE YOUR OWN HISTORY
——TEAM WANG Designer & Creative Director Jackson Wang
From January 17, 2021 TEAM WANG COOKIES—THE VELVET formally launches in TEAM WANG "ME vs ME" concept space at TX Huaihai in Shanghai. After the release of TEAM WANG's first collection COOKIES—THE ORIGINAL, half a year later, the Brand Designer & Creative Director, Jackson Wang, has launched a new bold and daring collection, TEAM WANG COOKIES—THE VELVET. The brand new COOKIES collection adopts a new element – velvet while preserving the brand's DNA. Velvet is as soft as human skin, displaying vitality and resilience of life. The exhibition of COOKIES – THE VELVET consists primarily of three thematic art installations:
[YOU CHOOSE], [YOU PLAN] and [YOU DO]
[YOU CHOOSE]
We have set up a baggage-claim area at TEAM WANG airport right outside the exhibition hall, and items from TEAM WANG COOKIES-THE VELVET are displayed along the conveyor belt. The conveyor belt, luggage carts and bulletin board perfectly reconstruct the scene of an airport baggage-claim area. TEAM WANG is the destination shown on the bulletin board, as it is hoped that visitors may board the flight to TEAM WANG's kingdom.Each piece of baggage on the conveyor belt symbolizes an opportunity in the journey of our life. When an opportunity comes to you, are you able to seize it promptly? Once a suitable opportunity is missed, a long wait must be endured before the next one appears. It is hoped that every official member has the courage to make the choice and enjoy a life journey without regrets.
[YOU PLAN]
Through the massive BOX security check, you are now inside the venue looking at a facade with TEAM WANG's brand statement, behind which is a black ladder with the TEAM WANG design that leads to a gleaming window enveloped in fog.
We know the view from a peak is only available to those who are already on top, which is why people should always strive for higher and brighter places instead of standing in darkness and guessing about the view from the top. To get a real view outside the "window", one must climb up steep steps, and during this process, your vision will become clearer and the "window" of insight will become larger and larger.
Whether people are able to realize their shallowness and willing to overturn their ridiculous perception depend on themselves. During the upward process, each step may require you to overturn what you previously deeply believed in. Would you still have the courage to proceed? The struggle to break free of the self-perception is precisely what TEAM WANG COOKIES -THE VELVET wants to demonstrate. After countless struggles, we will all become a better self.
[YOU DO]
In the heart of the venue, from left to right, are two silent men sitting on chairs, an INVISIBLE MAN in front of a mirror and a mocking wall that covers its accusers with a piece of black cloth.
The series of installations demonstrate the source of self-perception, which are scrutiny from others and ourselves and external voices; they reflect the judgments we are constantly experiencing from all directions. Whether it is a silent stare or open mockery, we feel pressurized and lost either way. Probably the only way to identify who we really are is to survey ourselves in the mirror. By doing so, we can stay true to ourselves without being affected by external voices.
Through the "ME vs ME" concept space, we hope to convey TEAM WANG's spirit to every visitor and demonstrate the essence of our products. Our cashier desk has also adopted the concept of an airport conveyor belt with the hope of offering each customer an immersive experience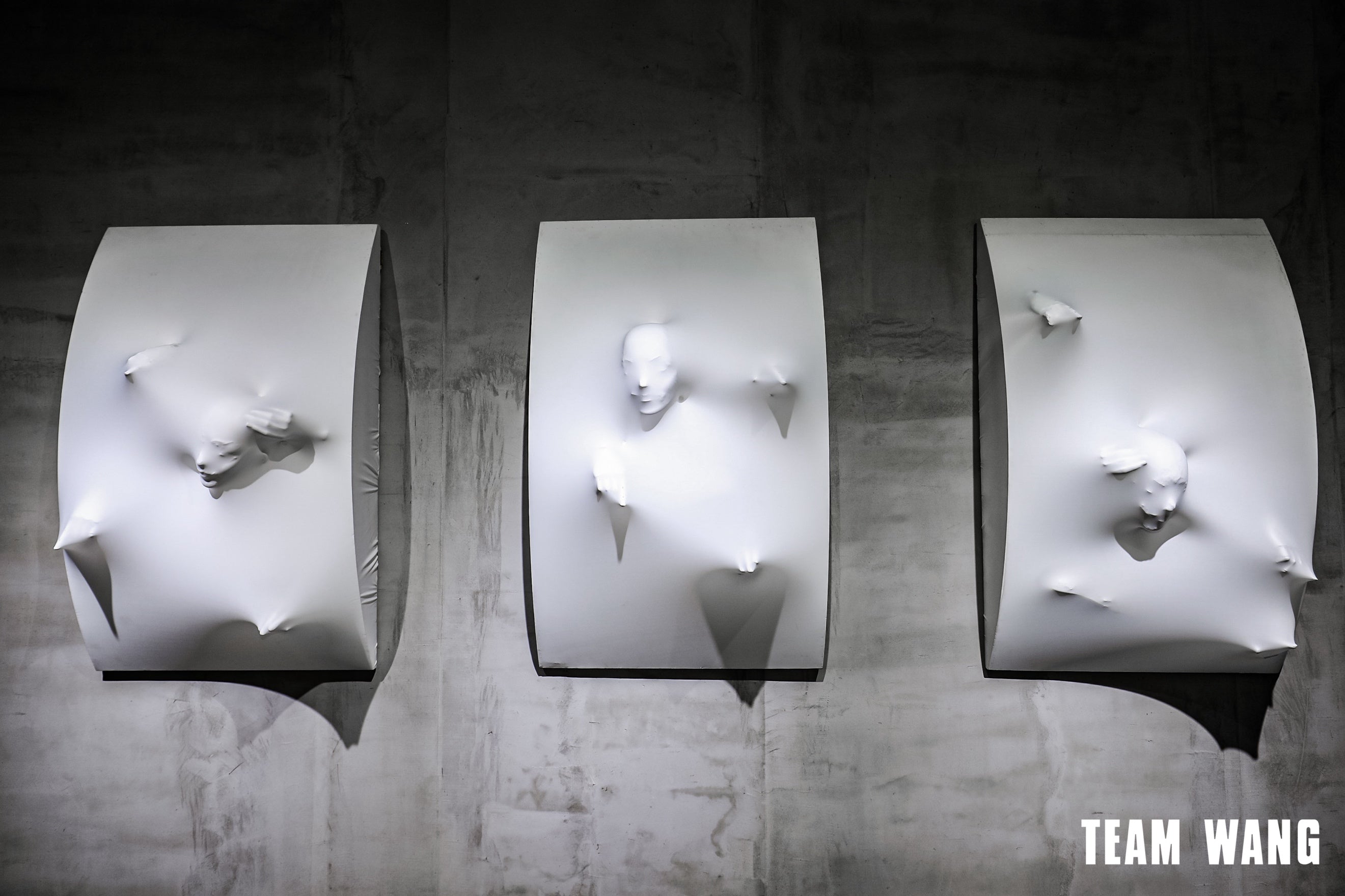 In addition to being an offline sale,
we hope the concept space will convey to each official member TEAM WANG's spirit and Story.
Each sales event will expand TEAM WANG's kingdom, and bring together and more love
Let's make history.