K-Pop star Jackson Wang launches a collaboration with a French painter from the past
Date:27 October 2020
Reference:Vogue
He is one of the biggest K-Pop stars in the world and is continuing his influence of the fashion world with his brand named Team Wang. His first drop? A line inspired by a famous painting by Monet.
First a fencing champion and then an international singer, Jackson Wang is now taking his first steps into the fashion world. After being the first K-Pop artist to appear in the top 50 of the Billboard 200 he has launched his first solo fashion collection, under the banner of his team label, Wang. A member of a K-pop boy-band, the young Chinese talent quickly became an icon of the new generation. Featured on many TV shows, Jackson Wang is used to being in the spotlight and is now taking his first steps alone into the fashion world.
As a reminder, this K-pop star gained success thanks to the collaborations unveiled under the name of his label Team Wang, among which we counted Fendi, Cartier and Ray-Ban.
Launched in 2018, the Chinese brand reinvented the codes of streetwear alongside big names, before launching its first collection.
Today in 2020, through futuristic pictures, Team Wang has unveiled an all-black streetwear collection. Each piece is twisted with a reinterpretation of the famous painting Impression Sunrise by French painter Claude Monet. Produced in collaboration with the agreement of the managers of the artistic heritage of the famous artist, this unique capsule symbolizes the meeting of two creative visions.
From a minimalist t-shirt to the zipped sleeveless jacket and the tracksuit, the collection features a landscape representing the horizon drawn by the skyscrapers on the shores of Shanghai. Jackson Wang decided to reinterpret this in the manner of Monet. A way to pay homage to a famous painting, all printed on the backs of monochrome streetwear pieces in contrast with the colors of an iconic canvas.
In order to extend this artistic experience, the Chinese label is currently exhibiting its reinterpretation of Monet's work, alongside original paintings on loan from the Musée Marmottant Monet, all through a futuristic decor presented at the Bund One Art Museum. The exhibition will be featured in Shanghai until November 17th.
The collection will be available on October 31st.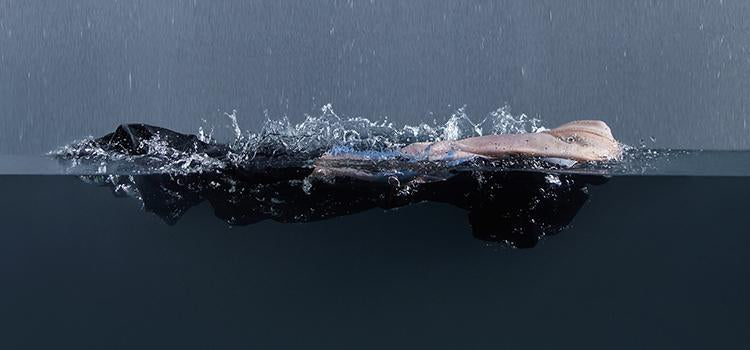 ---