How K-Pop Star Jackson Wang Is Breaking Into Streetwear Fashion
Date:16 Nov 2020
Reference:Forbes
Streetwear and K-pop have seldom crossed paths, other than at the department stores likely. Culturally, the two have yet to connect as much as Hip Hop and streetwear do. K-pop, on the other hand, has taken over the cultural corners of the entertainment industry that have awed the masses. As K-pop continues to rise, the visibility offers an opportunity to create fashion as a byproduct.
K-Pop star, singer, rapper, songwriter, television host, Got7 member, and solo artist, Jackson Wang, is taking his talents into fashion design, where he intends to carve out a niche for himself in the streetwear market. Wang sees his TEAM WANG brand and music label as a visionary platform for his imagination.
TEAM WANG adheres to the idea that we should "Know ourselves, and make [our] own history," Wang describes his brand's ethos. That sentiment is also a part of his journey that took him to where he is today.
Jackson Wang, born in Hong Kong, grew up in a sport-oriented household. His father was a national fencer in China during the Asian Games, and his mother was a gymnast from Shanghai. Wang would succumb to his fencing lineage, and he too would become a national fencer at the young age of 10.
Wang would participate in the 2010 Summer Youth Olympics and eventually was offered a scholarship to Stanford for fencing while in high school, where he also played basketball. Wang knew himself to have greater talent than his parents saw in him, although.
He is now fusing his K-pop swag with his fashion style for TEAM WANG to express his vision. Cut and sewn lines like Masha Ma, Uma Wang, streetwear collections like Li Ning, Clot, and Asian brands like Kirin [Peggy Gou, Korea], Team Manilla [Philippines], Wacko Maria [Japan] are brands that have paved the road for TEAM WANG to make a statement in fashion today. And they have stamped Chinese youth culture.
Wang explains, "In recent years, I have seen that many talented Chinese designers are gaining more and more respect internationally in the fashion industry. We are very blessed to be able to bring our design and Chinese culture to the forefront with other designers in this movement. We are also looking forward to collaborating with them and bringing our culture to the world."
Jackson Wang knows a bit about collaboration and its importance to the fashion industry today. Working with fashion brands like Fendi, Cartier, Ray-Ban, and Adidas Originals, to name a few, has given light to Wang's taste for creating a style he can craft on his own. Wang understands the value in these endeavors, offering great insight. "It is an honor working with these brands. We often discuss creativity and ideas together, and it is amazing to be able to input TEAM WANG DNA into these collaborations," Wangs expresses.
With a clearer vision for himself, he has sought the team he needs to bring TEAM WANG to life. "Two or three years ago, I had this concept. [I] just needed to find the right team and the right people who share the same vision."
Wang enlisted Henry Cheung, who is co-founder and CEO of Team Wang Design, and Jackson Wang himself, as CEO of TEAM WANG. Together, they overlook and execute the TEAM WANG vision. Wang asserts that the "things that have been going through [his] mind all these years - a total representation of [his] aesthetic," are his muse moving into streetwear.
He continues to work on his music, recently completing his English album and back in the recording studio in Korea. The music/fashion relationship has been prominent, and for Wang, it seems fitting. He explains, "I believe music does play a role - it's an emotion and a sense of hearing. With fashion, it's a sense of touch, design, and creativity. I believe all senses are intertwined."
Wang looks for his aesthetic to speak with this evolving collection, looking to expand design into cut-and-sewn pieces. TEAM WANG has launched their initial collection in partnership with StockX, and have collaborated with One Art Museum of Shanghai for a special Monet inspired capsule. He concludes, "I think the most important thing is to know yourself. 'How do you understand and recognize yourself?' 'What is your inner belief?' 'And who are you?' I am me, Jackson Wang."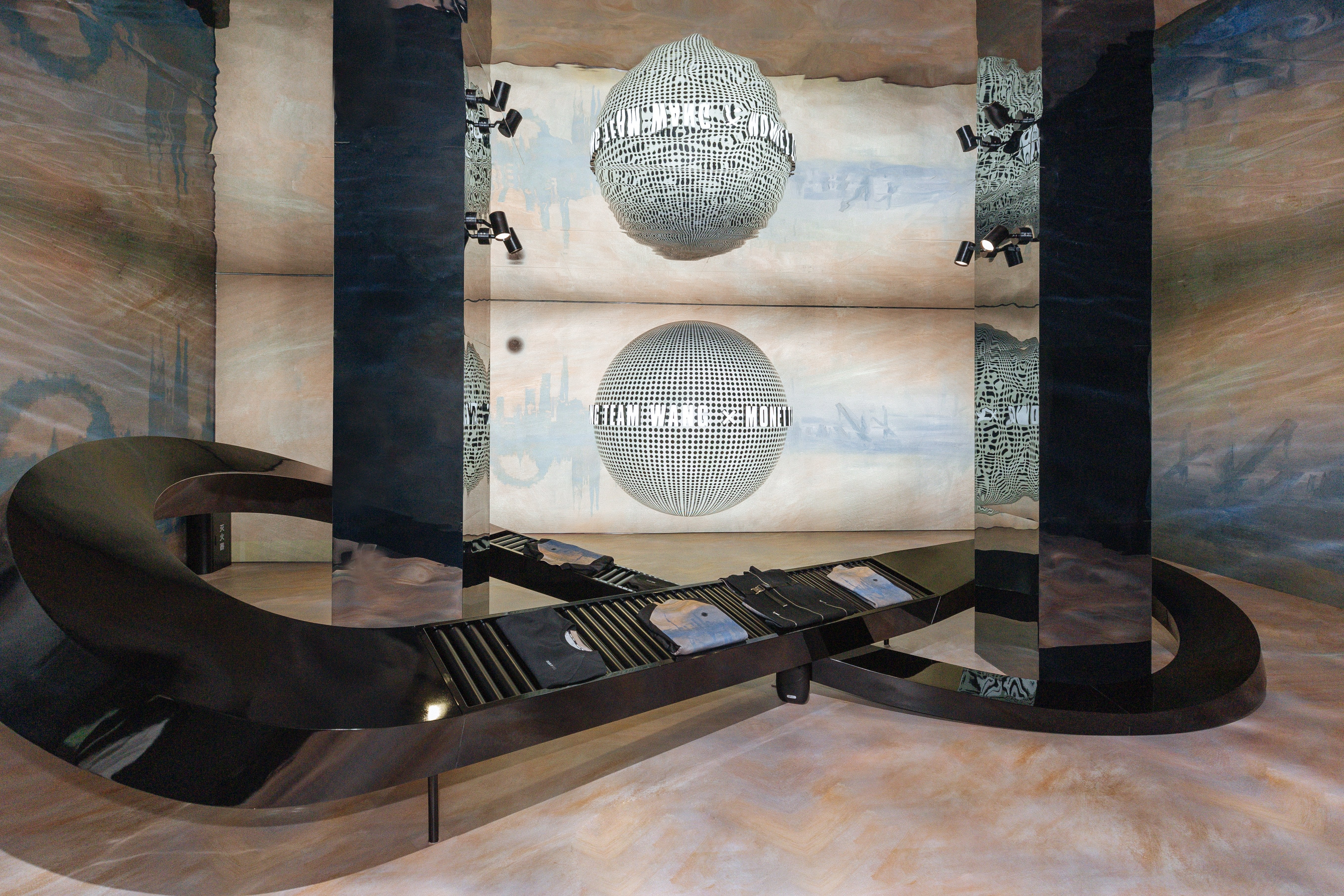 ---