Jackson Wang on Team Wang's StockX IPO Capsule Pack
Date:10 Sep 2020
Reference:Prestige
After the success of its first pop-up store in Shanghai, Team Wang — Chinese pop star Jackson Wang's newly launched streetwear label — has released a limited capsule collection with StockX. Jackson Wang along with the brand's co-founder Henry Cheung and CEO Brandon Chang share with us the inspiration and values behind the collection.
The Team Wang IPO capsule is built on Jackson's life philosophy: "Knowing yourself and making history". As the creative director and designer of the brand, Wang wants this collaboration to showcase something completely different from their first collection. "We wanted to do something different and people who know about Team Wang know that our core colour and DNA are the exact opposite of their latest collection presentation. [For this collaboration with StockX] we switched it up and showcased an all white sparkle for one time only." Wang told Prestige via text. "I'm hoping to show everyone more sides of the same me. Things that have been going through my mind all these years and a collection that is a total representation of my aesthetic."
Working with the right team that has the same energy and vision has been the goal since day one. "Jackson has so many wild ideas so I need to pull him back to reality constantly." says Cheung, the co-founder of Team Wang. "For this collection with Stock X we agreed on an all white sparkle release, which most likely won't appear again in the near future. We are extremely honoured and blessed to have this opportunity."
"As an Asian, as a Chinese, it means a lot for us to break the boundary this way." Chang adds.
For this IPO, Wang designed an exclusive colour-way of the iconic Team Wang capsule for a StockX limited pack, which includes a logo T-shirt, a tracksuit and a vest with utilitarian pockets and buckles, all available in two sizes. Made from premium materials, the collection comes in a clean white colour-way with eye-catching gold detailing in a limited edition of 1000 packs. The capsule collection is available for bidding through a blind auction, allowing customers to set the market price. "StockX is a global leader within the sneaker and streetwear spaces, so naturally it is an enormous blessing to be able to partner and collaborate with them," said Wang. "We are the first brand coming out of Asia that has been given the opportunity to create an IPO with StockX and for Team Wang, that's making history."
When asked about the future plans for Team Wang, Wang gave us a sneak peak. "We are working on another huge collaboration which is coming out in mid September. Follow us on Instagram and stay tuned!"
Team Wang capsule packs will be available for bidding worldwide on September 8 at 9am est through September 10 at 8pm est exclusively via StockX IPO.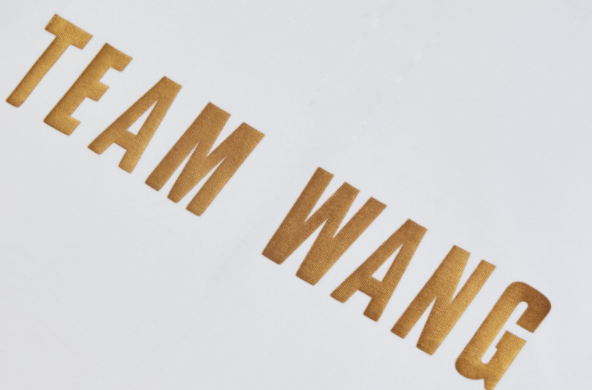 ---